50 Best Selfie Captions for Instagram 2020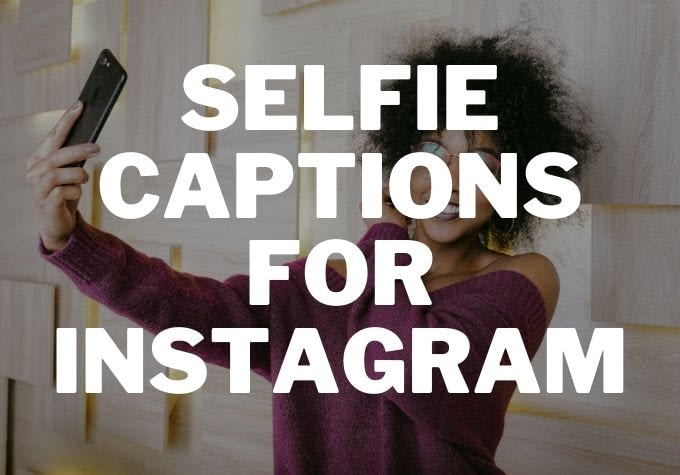 Sometimes finding selfie captions for Instagram pictures is more challenging than taking a good selfie. You may click a good selfie of yourself after some tries, but coming up with meaningful one-liner captions about the picture can take up some time. We want to save up your time by providing you with the best Instagram captions that you can find for your selfies.
Here is a list of 50 selfie captions that you can use to add a context to your Instagram pictures.
Selfie Captions for Instagram
This world silently spins while you stay still.
You are all the colours at once, in full brightness
It's the wild ones who will set you free
Be humble, nothing in life is permanent
Living the good life
Let your light shine
Got to let the hippie soul shine every now and then
We are all like the bright moon, we still have our darker side
Living a rainbow of chaos
Less perfection, more authenticity
No secrets worth keeping, so fool me like I'm dreaming
Flashing those eyes like highway signs
Inner peace is the new victory
Life isn't perfect, but my selfie is
Growing and glowing
Beauty is what you feel about yourself
Only in the darkness can you see the stars
I was born to be real, not perfect
Don't let anyone dim your light especially when your light is worth shining
Happiness looks gorgeous on everyone
No offence to me, but what am I doing?
Patience is not a virtue, it is a waste of time
I can't focus on what needs to get done.
Still around, just moving differently
Real is rare
When you are better, you attract better
Alexa turn my feelings off
Happiness is homemade
Touch me with no hands, hold me with your eyes
Enlightening the soul
Keep being you, somebody gonna feel it
Believe in the good. See the good. Be the good
I'm lost in my imagination
Crushing over myself since day 1
I got 99 moods but you can't handle even 1
7 billion smiles in the world and mine are my favourite.
I'm a woman. What's your superpower?
Chaos makes the muse
Just trying to find colours in this black and white world
Don't trust everything you see. Even salt looks like sugar
Stars can't shine without darkness
It's only me, what you got to lose
All we do is think about the feelings that we hide
Embrace reality, even if it hurts you
As long as you love yourself, nothing can fall apart
My life isn't perfect, but my outfits are.
She acts as the summer and walks like the rain
Let's celebrate with a toast and get lost in tonight
Be as picky with your men as you are with your selfies
Ain't nothing like a Saturday morning