50 Best Mountain Captions for Instagram 2020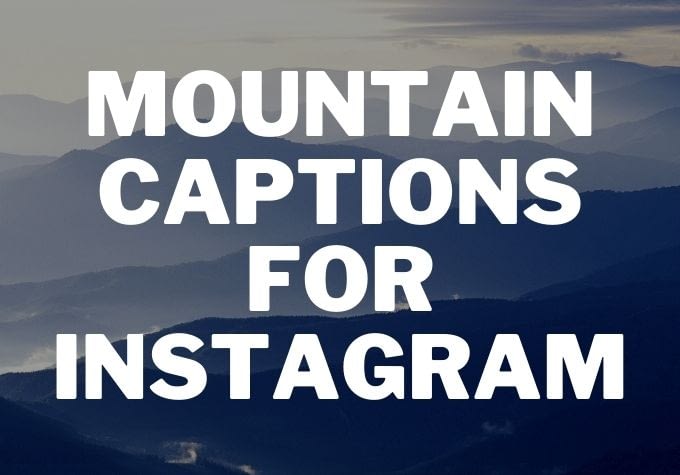 Who doesn't likes mountains? The most wholesome place for vacation. The cold breeze, high altitudes and the snowfalls set the mood to the vibe, not to forget the beautiful sunset the mountains make.
A good picture in the mountains can add a good impression to your overall social profile. Mountain captions for Instagram help you add a context to your beautiful scenic photograph in the mountains while hiking, snowboarding, rock climbing or skiing.
Here are such 50 mountain captions for Instagram that you can use to add meaning to your beautiful pictures.
Mountain Captions for Instagram
The best view comes after the hardest climb
Everything is better in the mountains
Made for mountains
If life gives your mountains, put on your boots and hike
The mountains have my heart
Hike more, worry less
Magic of the mountains
Life is short, go to the mountains and never look back
I climb mountains to see where the sun sleeps
The view is always worth the climb
If you need me, you can find me in the mountains
All I need is a mountain, breeze and tall trees
Dear mountains, I think about you all the time
Between every two pines is a doorway to a new world
Mountains have a way of dealing with overconfidence
Hey hey, vacay!!
Over the mountains and through the woods
And into the mountains, I go to lose my mind and find my soul
Sky above, earth below, peace within
Dear mountains, I miss you
The mountains are calling and I must go
I love you to the mountains and back
Over the mountains and through the woods
The world is quiet here
I'm at home among the trees
Mountains = my kinda therapy
May your dreams are larger than mountains
Life is better in hiking boots
Go wild for a while
Take me to the mountains
Made for the mountains
If you think adventure is dangerous, try routine-it's lethal
It's a big world out there- go explore
So much world, so less time
The sun shines brightest from the peak of mountains
The best memories are made in the mountains
If you think you've peaked, find new mountains
There's no time to be bored in a world as beautiful as this
The mountain knows my story
Mountains are my forever mood
I dream to travel
Going to the mountains is going home
Always say yes to new adventures
Sometimes nature is all you need
Life hurts, nature heals
Mountains are my medicines
The mountains whisper for me to wonder, my soul hikes to the call
Feels so good to be lost in the right direction
My heart was made to hike
Mountain Girl/boy