50 Best Life captions for Instagram 2020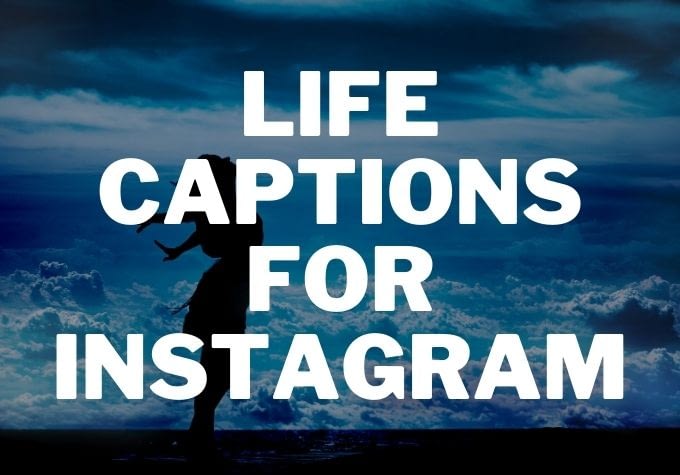 Life captions for Instagram pictures depict how you like to live a life that sets you free. A life that satisfies and fulfils you, that adds happiness, joy and a sense of purpose. Life captions can go well with any regular day picture explaining its context and adding meaning to it.
Given below are 50 such life captions for your Instagram posts and pictures.
Life captions for Instagram
I need to find hobbies that don't include my credit card.
When you have so much to do and you don't know what to do first, so you just don't do anything
A great future doesn't require a great past
Your best teacher is your last mistake
Life is only as good as your mindset
Create the life you can't wait to wake up to
The way you treat yourself sets the standard for others
Have the courage to be disliked.
Appreciate the beauty around you
When happiness comes from within
Romanticize everything you do!
Wherever life plants you, bloom with grace
Embracing life is learning to love yourself
If you want the light to come into your life, you have to stand where it's shining
Grow through what you go through
Set your life on fire, seek those who fan your flames
We are only one decision away from a different life
Life is the art of drawing without an eraser.
Breathe. It's just a bad day, not a bad life.
Life is not a problem to be solved, but a reality to be experienced
Through good and bad, right and wrong, life has been a country song
Life isn't about finding yourself, it's about creating yourself
Reality is wrong. Dreams are for real
We all got issues, just different magazines
Don't just exist, live!
Whatever you do in life, make sure it makes you happy.
So no one told you life was gonna be this way…
Live the life that people write novels about
And you go on living, despite all of it
It only gets better when you get better
Humans can be museums too, filled with a history they can no longer touch.
We age not by years, but by stories
What you allow, is what continues
Hope is nothing, but a dream of awake
Life goes down, at the moment we're lost and found
You've got to win in your mind before you win in your life.
Even though you're fed up, you gotta keep your head up.
life is easy with eyes closed
It's not supposed to make sense, silly.
You've got one life. You gotta do whatever you love
No days are the same, but your spirit can be
The best thing you can do is master the chaos in you
Don't get so busy making a living that you forget to make a life
Nothing can dim the light that shines from within
What matters the most is how you walked through fire
Live the life you love
Whatever is good for your soul just do that
Edit your life frequently and ruthlessly
When life gets blurry adjust your focus
Live now before it all runs out