50+ Best Girl Captions for Instagram 2020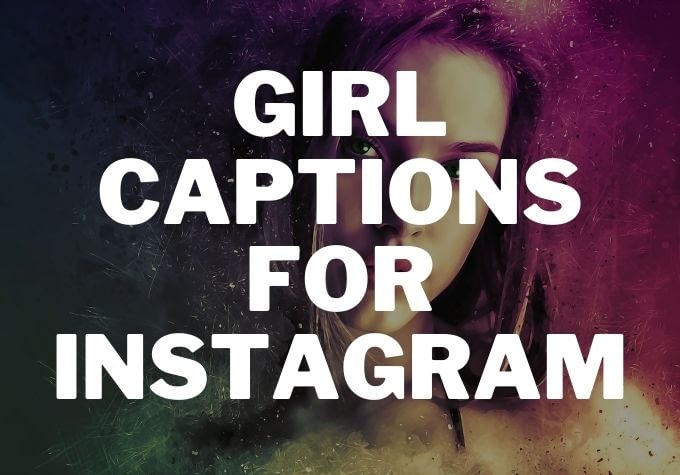 Finding the best girl captions for Instagram pictures can sometimes be a difficult task as compared to clicking or editing it. Adding Hashtags and captions to your posts can help you get better engagement on Instagram.
Given below are 50+ best, cute, short, cool and funny girl captions for Instagram that you can use on your other social media pictures as well.
Girl Captions for Instagram
If it doesn't help you grow or glow let it go
Too glam to give a damn
Be less bitter, add more glitter
She is a keeper, only if you know how to keep her.
I have mixed drinks about these feelings.
Sunshine mixed with a little hurricane
Wearing a ring, but ain't gonna be no Mrs.
Push yourself higher than your heels!
When all is said and done, you'll believe God is a woman
Tell me something like I'm your favourite girl
She's got seven personalities, every one's a tragedy
Each time a woman stands for herself, she stands up for all women
Be the CEO your parents always wanted you to marry
If at first, you don't succeed, fix your ponytail and try again
Never let a fool kiss you, or a kiss fools you
Kids have teddy bears, women have boyfriends, the queen has their own empire.
A girl can never have enough shoes
Don't let anyone dull your sparkle
Look like a girl, act like a lady, think like a man, work like a boss
With brave wings, she flies
You may say I'm a dreamer, but I'm not the only one
Still in the generation of polka dots and long hair!
All she wanted is to be a firefly!
As thin as my patience
Just enough madness to make her interesting
The look in your eyes says more than the words from your lips ever could
Burning rainbow till the end
I know, I'm the place you love visiting
Sizzle alert, let's set the temperature soaring.
She who leaves a trail of glitter is never forgotten
She has a fire in her soul, and grace in her heart
You won't survive the woman I'll become
Thick thighs and pretty eyes.
Her courage was her crown and she wore it like a queen
Girls compete with each other. Women empower each other.
Strong women lift each other up
Coz darling I'm a daydream dressed like a nightmare
I know looks aren't everything, but I have them just in case
There's real power in heels and a good dress
The eyes tell more than the words could ever say
Never underestimate the power of a bold lipstick
There is no force more powerful than a woman determined to rise
When all else fail, turn it into a smokey eye
In the world full of roses she chose to be a dandelion
Behind every dope woman, is one hell of a story
I enjoy getting dressed as a Barbie doll
A woman is like a tea bag, you can't tell how strong she is until you put her in hot water
Gorgeous hair is the best revenge
Out of your league.
Some women fear fire, while some simply become it
The decoration of a woman is modesty and decency
She is fire and ice. You'll fear the cold and crave the burn
Cause we like to play dress-up
She is just a little too worth it!
Eyes have their own language
I don't need a man to make my life sweet
It's okay to be a lil obsessed with your hair
Entirely made up of flaws and stitched up perfectly by grace.
Go disappoint the next girl, I'm busy.