50+ Best Funny Captions for Instagram 2021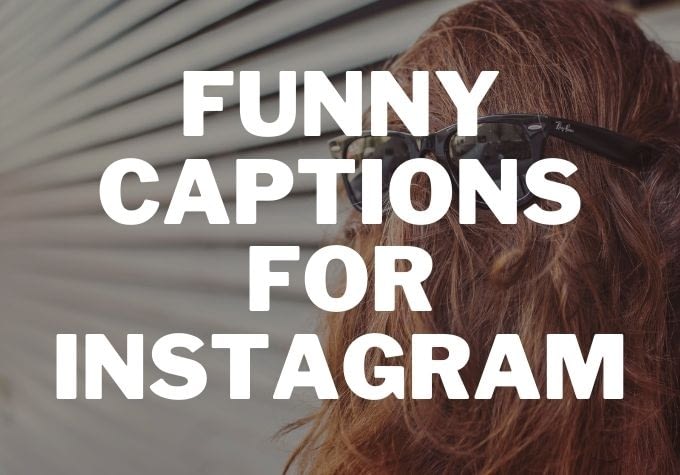 Don't you hate it when you have a badass picture all ready to post, but can't find a caption funny or sarcastic enough to match your vibe? I agree quotes make you look a bit sophisticated, but funny captions for Instagram would surely crack your group up. Instagram is not all about cool and aesthetic shots anymore. Writing a caption that connects with your post is just as important.
Some people are witty and sarcastic and can come up with a caption in a second. But let's be serious, we aren't one of those. It takes me hours to think of that one caption, which eventually just gets rejected in my group chat. Finding the perfect angle for your picture is difficult enough, but writing a caption that matches your vibe is even more difficult.
We have dug up the internet to find you some of the best sarcastic and funny captions for Instagram.
Funny Captions for Instagram
You're one in a melon
I didn't see anyone today, so I am wearing this again tomorrow
Puberty forgot my height
I have so much to do that I am going to bed
I may look like a burnt chicken nugget, but I still love my self
Be strong, I whispered to my wifi signal
RELATED: Selfie Captions for Instagram
I came. I saw. I made it awkward
Don't be ashamed of yourself. That's your parent's job
You were my cup of tea, but I drink beer now
I wonder how many miles I've scrolled with my thumb!
You, sir, are the human version of period cramps
Don't be a racist, hate everyone
Called him daddy, but he wasn't my father
Being a d*ck, won't make yours any bigger
Forever pushing a pull door
My future's so bright, I gotta wear glasses
There are no bad pictures, that's just how your face looks sometimes
If I was a bird, I know who I'd shit on
Pathetic but aesthetic
We all want to be the Rachels and Chandler's of our stories, but y'all know we are Gunther
I followed my heart, and it led me to the couch
Putting my grades up for adoption because I can't raise them myself
Alexa play everyone that played me
Currently holding my life together with one bobby pin
RELATED: Baddie Captions for Instagram
The only clubs I'm into are sandwiches
You only live once, lick the bowl!
If you wanna impress me with your car, it better be a food truck.
I think carbs are my soulmate
I doubt vodka is the answer but it's worth a shot
My hairstyle is called "I tried"
You are simply the best
etc. – end of thinking capacity
I wonder how many calories bitches burn by jumping to conclusions
All this cocaine in this world, and your noses still in my business
Fifty shades of hunger
I even overthink my overthinking
I got a good heart, but this attitude…
I enjoy long, romantic walks to the fridge
The mondayest tuesday ever
Current mood: so much ugh.
I'd take a nerf bullet for ya
Just dropped my new single. It's me. Im single.
Be a badass with a good ass
Want: Cuddles, Receives: Struggles.
Still don't understand how people my age have children. I am children
My soulmate is just out there somewhere, pushing a pull door…
Losing everything but weight
Imma social vegan. I avoid meet
RELATED: Attitude Captions for Instagram
The last time I was someone's type, I was donating blood
Friday feelings on Tuesday 
I wonder if there's a pizza out there thinking about me too