50 Best Dog Captions for Instagram 2020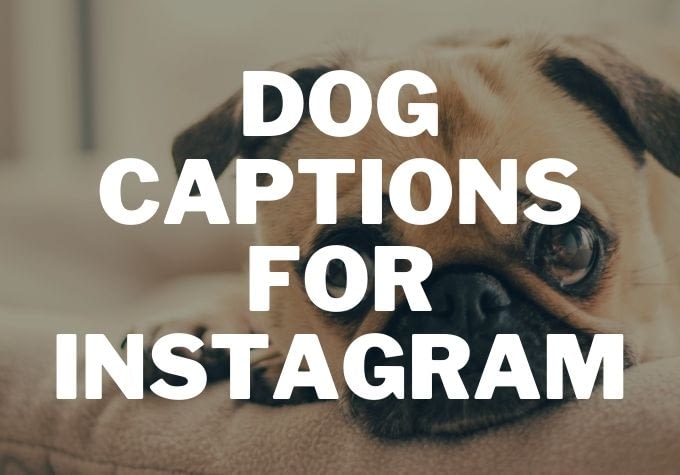 Whether it's a cute pic of your dog wearing a sweater or a video of you and your dog hanging out, dog captions for Instagram would fit perfectly with your post. Dogs rightfully are our best companions. They hop in our happiness and comfort us when we are sad. There are tons of possibilities when a perfect Instagram caption is the need of the hour.
Remember how you got all excited and took a video of your dog rolling on the carpet, and just as you were about to post, you couldn't come up with a caption that could speak your heart out. Dog Captions for Instagram would help you put your love into words. We have included funny, cute, and sad captions for your next dog caption emergency!
Given below are the 50 best dog captions for your Instagram picture.
Dog Captions for Instagram
Pawsitive vibes only.
Eat, Sleep, Bark, Repeat
Explore o'clock
Easily distracted by treats
It's raining, it's poring, I'm home and it's not boring.
This hooman can't stop filming me.
Having a dog simplifies your life.
Get me a guy who looks at me like my dog!
These are the eyes I would always die for
Naptime is my happy hour
A dog over a human? Anytime!
The journey of life is sweeter when travelled with a dog
Is it the beauty of the camera or the dogs, that makes people smile?
Hope you have a pawsome day!
The best therapists <3
Dogs are like potato chips. It's hard to have just one.
The best therapist has fur and four legs
It really is the dog's house, we just pay the bills
You had me at woof
Hold my drink, I've gotta pet this dog
I wonder what my dog named me
This friendship is fur-real!
If you don't have a smile on your face already, I bet you do now
Sending pawsitivity
This is what a happy face looks like
Not to brag or anything, but I'm kind of a big deal to my hooman.
Happiness starts with a nose and ends with a tail.
Today was a pawtastic day!
Ready for a pawsome experience
Trust me, I'm a dog-tor
Ask for furgiveness with a couple of treats
If I had a dollar for every time my dog made me smile, I would be a millionaire.
Furry hair, don't care.
"I'll follow you until you love me", – Puparazzi.
You must be my backyard, cuz I really dig you.
Live like someone left the gate open.
"I am not spoiled, my master is just well trained."
I've got the pawer!
Kids these days… When I was a pup, I only had one toy and one stick.
Paw-don me if I'm being rude.
More the sniffs, longer the walk.
On my bark, let's go to the park.
Sometimes they call me, "Get Back Here".
Zero pugs given :p
Don't stop retrievin
Tell your dog I said hi.
If you're having a bad day, just pug-get about it!
Meet my su-paw-star
Dirty no more.
Hi, I'm "dog name", and I'm a hole digger!