50+ Best Coffee Captions for Instagram 2020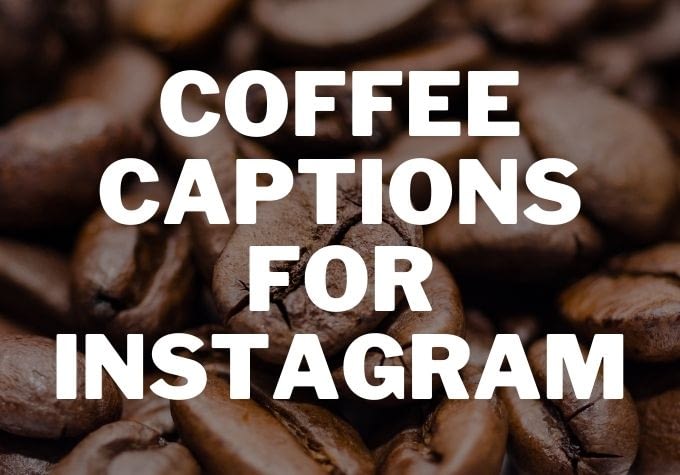 A hot cup of coffee is one of the most reoccurring subjects in daily life photography. While posting it on Instagram, adding a great caption can be stressful sometimes. Well, we got you! We have done some Internet search and found over 50 coffee captions that you can use as a context for your coffee-related posts on social media.
Coffee Captions for Instagram
I'll have a coffee with my sunshine
First I drink the coffee then I do the things
Coffee makes everything okayer
I love you a latte
Caffeine+ kindness is all you need
Coffee and u makes the perfect blend
Coffee- a hug in a mug
All I need is a lil bit of coffee
I run on caffeine and sarcasm
Life happen, coffee helps.
Make coffee not war
You're brewtiful
I can't espresso how much you mean to me
Coffee because adulting is hard
I'm not addictive to coffee. We're just in a committed relationship🤪🤞🏻
Wanna hear a joke? Decaf.
Coffee is always a good idea
But first, my coffee ☕️
I don't need an inspirational quote, I need my coffee
Take a lil coffee break
Don't underestimate the power of coffee and a girl/boy with dreams
Hot and strong, just like my coffee
Today is a multi-cup of coffee kinda day
If you were ground coffee you would be espresso cause babe u so fine 🤪
Happiness in the first cup
Love at first cup❤️
What comes after morning coffee? Afternoon coffee.
Espresso yourself.
Coffee doesn't ask me stupid questions in the morning. Try being more like coffee
With enough coffee, everything's possible
Love is in the air and it smells like coffee
A yawn is a silent scream for coffee
My coffee smells like freshly ground heaven
No coffee. No talky
Mond☕️y C☕️ffee
Coffee & fuzzy socks 🧦
Resting coffee face
Life is better with coffee in a hand
Coffee in one hand, confidence in another
Caffeinated Queen
Feeling depresso without my espresso
Too much Monday, not enough coffee
When things go wrong, Coffee helps
Maybe coffee is addicted to me
Procaffeinating☕️✨
May your coffee kick in before reality does
Brew coffee, not negativity
My blood type is coffee positive.
Of course size matters. Nobody wants a small cup of coffee.
Coffee isn't a drug. It's a vitamin!!