50+ Best Christmas Captions for Instagram 2020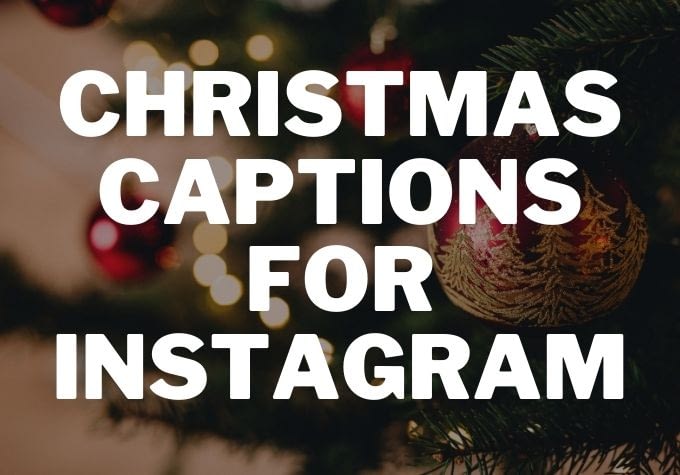 The holidays are just around the corner, and you might use some funny and cute Christmas captions for your Instagram pictures. Be it your social gala or the pine tree you've been decorating all day, a Christmas picture helps you keep all these festive memories for coming years.
Posting it on Instagram or other social media platforms is the best way to show your followers how you spent your day. But a good picture without a good and funny Christmas caption wouldn't do it justice.
So to kick-start your caption search for your lights and trees, here are the best 50+ Christmas captions for 2020 we would want you to check out.
Christmas Captions for Instagram
Merry elfin Christmas ❄️
"`Feast mode"`
Dear Santa…I can explain
I'm dreaming of a white Christmas 🤍
Christmas is my favourite!!🎄🎅🏻🛷
I love u snow much❄️❄️
What do you want for Christmas?
Go turn on the Christmas lights
Santa's on his way!!!! 🎅🏻
Wanna ride on Santa's sleigh 🛷
What do elves eat
Wrap the Christmas presents 🎁
_Less sing Charols!!_ 🎶
Wow, it's really cold outside ❄️
Help your mom make Christmas dinner 🍲
Put Cookies and milk out for Santa
Yay! It's snowing 🌨
Never gonna sleep tonight!!
Dashing thru the snow!!
Freezing szn!!
Winter wonderland
"` Come out & play "`
Best time of the year!!
Fairy lights and long nights✨
It's all so Magical 🎄❄️🎅🏻🛷✨
You and me at Christmas ❤️
_Santa baby_ 👶🏻💕
A cotton-headed ninny muggins
Drinking up grinches it's Christmas🤍
Dear Santa, please refer to my Pinterest board🎅🏻
Happy holla days✨🎄
Meet me under the mistletoe 😉
Believe in you elf
But first, lemme take an elfie🤪
#sleigh
Hurry down the chimney tonight
make it a Christmas to remember
May your day be merry and bright✨
My fav color is Christmas lights🎄
_Tis the szn_
Hoping Santa will give you a personality this year😏
Dear Santa, leave your Credit card under my tree🤪
_Holly Jolly_🛷
It's about presence, not presents<3
Yk what I got for Christmas? Fat. I got fat ;-;
We go together like Christmas and cookies 🍪
All roads lead home for the holidays
All i want for Christmas is more clothes!!!😭
Im only a morning person on Dec 25th
Maybe next year, don't be a _HOE HOE HOE_!!!🤪
Gonna lay under the tree to remind my family that imma gift xD
Tis the holiday season, let the overeating begin!