50 Best Cat Captions for Instagram 2020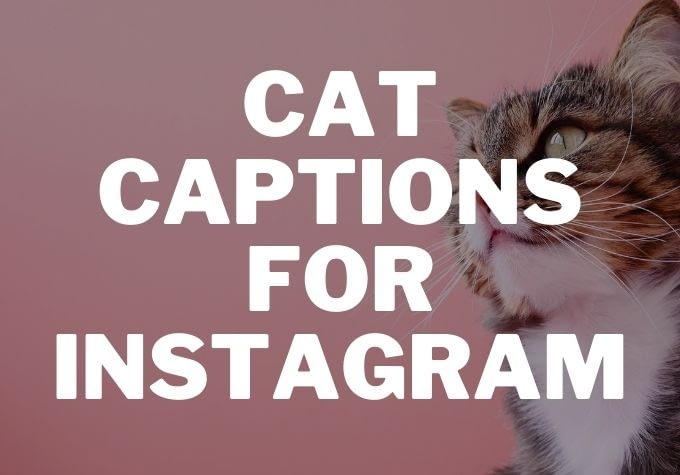 If you have a cat, the big chances are that you're going to upload its picture on your Instagram posts or stories. Cat captions for Instagram pictures help you add a funny caption to your cat-related posts. Along with some relevant hashtags, adding a cat caption to your IG post can help you get better engagement, and reach with others who share the same love for the four-legged companions. 
But sometimes it gets difficult to come up with a caption that would truly express the love for your little friend, so to make your work easier, we came up with 50 punny and funny captions that you can use for your cats and kittens.
Cat Captions for Instagram
You're Purrrfect to me✨
If my cat could talk, she wouldn't
This is impawtent🤪💘
I love you meow and furrver 
My furrever😭❤️
Happiness is having a cat as a friend 
Fluff on fluff 
You got to be kitten me
What greater gift than the love of a cat
Meow'd it going?
The best therapist has fur and four legs
All you need is a cat and love
For the memories, fur
Not all angels bear wings. They do have whiskers occasionally🤪
I love you and I'll love you fur-ever!!
The path is lined w paw prints to my hand🐾 
Love is the word that has four legs
Anything w a cat by your side is paw-sible
You had me at meow 
Cats aren't all our lives but they're making our lives whole
Cats>>humans
Checking out your cat, not you😏
Life isn't perfect but my cat is
I'm not single I have a cat🐈🤪
When I needed a hand, I found your paw 🥺🐾 
Home is where the cat is💘
I was the boss until I got a cat
Visitors get approved by my cat
I was normal two cats ago
My cat makes me happy. Humans make my head hurt 
Cat hair is part of my life
When all else fails…hug the cat 💕
Cat mom/dad❤️
Happiness is when my cat sleeps next to me😭❤️
If my cat doesn't like you, I probably won't either 
My cat owns a staff and that's me!!
Cat fur is a part of home decor🤪
Listen. Hear. Meow.
I've got a baby and she meows
My cat is an attitude w furrr
Currently suffering from Obsessive Cats disorder 
I love you fur real!
Catitude is everything 
I knead you in my life💘
Pawdon us for being cute🤪
A Meowigical cat
Furbaby 
A meow massages the heart❤️
Owning a cat is like eating M&Ms, you can't just have one
In my cat's eyes, everything belongs to her