50+ Best Birthday Captions for Instagram 2020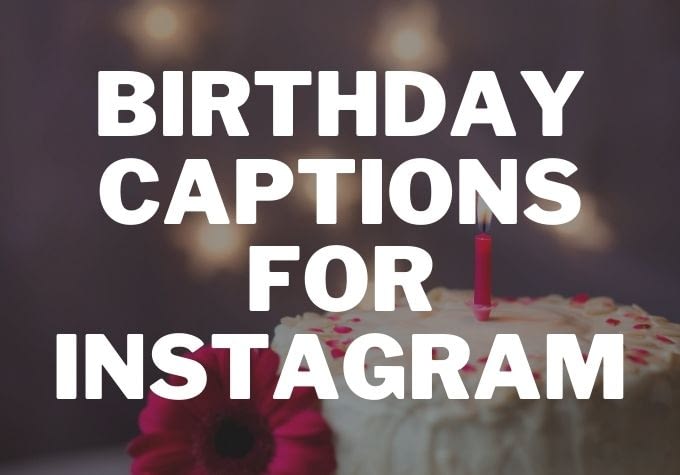 Finding a perfect birthday caption to pair up with your birthday picture can sometimes be a task. Cake day is a special day to celebrate as it reminds you of how much you've grown in the past year along with good food, cakes and parties. Midst you probably wouldn't want to waste your special day thinking about a relevant caption to add to your cake selfie. We mixed different birthday captions for you to make your hunt easier.
Below are over 50 birthday captions for Instagram selfies and pictures that you can use to define your special day.
Birthday Captions for Instagram
A year older, a year wider. 🎂 
Go shawty, it's my birthday 🥳 
Cutting my cake and eating it too
I'm officially (age)!! 🍻✨
Gonna party like it's my birthday, oh wait it is🥳🍻
Birthday bitch!!
Another year older, happier and wiser 🎈
On this day a Queen/King was born🍺💦
Making my birthday wish✨
It took me (age) years to get this cute🤪💘
Deal w it, cause it's my birthday 🥳🍻
Turning my birthday into a lifestyle🥂✨
Staying sassy on my birthday🧚🏻‍♀️💦
I didn't get older, I levelled up😎🥂
Another birthday and I'm still gorgeous as everrrr 👅✨
The thing is I love birthday celebrations but only when they're  mine 🤪🥂
Gonna party like hell cause it's my birthday 🥃💦
Another year of being fabulous 🥳✨
Happy Birthday to me💘
Birthdays are nature's way of telling us to eat more cake 🤪🎂🥂
Old enough to know better but still young enough to get away w it 😎🍺
Live your life and forget your age! 🥳
*age* has been amazing! Can't wait to see what the next year brings 🥰💘
Sassy since day1🤪💁🏻‍♀️
You're never too old to be young! 🍻
A year older, a year bolder.
It is time for the new chapter🤞🏻✨
Blessed to see another year 😇❤️
Happy birthday to my beautiful self 🤪💘
Bow down. It's the queen's birthday 👑✨
Another year down, a lot more to come.
Today I thank God for another year, another birthday. HBD to me 🥳
I'm never getting older!!!
It's my birthday party and you're not invited.
It's my '__th' lap around the sun
Closing my eyes cause I don't wanna see you on my day 💁🏻‍♀️😏
Honey, I'm the birthday girl!! 🥳
Feeling the most loved, cause it's my birthday 🎉 
*age* years old but feeling like I've lived for 40 years already 
Thanks to everyone who made my *age* years on earth the best ❤️🎉
Bday candles aren't the only things getting lit tonight 🤪🧚🏻‍♀️
Still crazy after all these yearsss 🥳
I've decided that I won't age anymore
At least I'm still a year younger than I'll be next year
I hope I grow old enough to frighten babies w my looks🤪
Turning my badass mode cause it's my birthday 💁🏻‍♀️✨
I'll stay this age until further notice
Another birthday? no problem✨
Making my years count instead of counting the years🥂
Feeling adult-ish 🤪 (for 18th bday)
Legal 🔞 (for 18th bday)
*age* candles 
Extra candles on the cake cause why not🤪
not feeling the wiser thing…
On level *age*!!