50 Best Billie Eilish Captions for Instagram 2020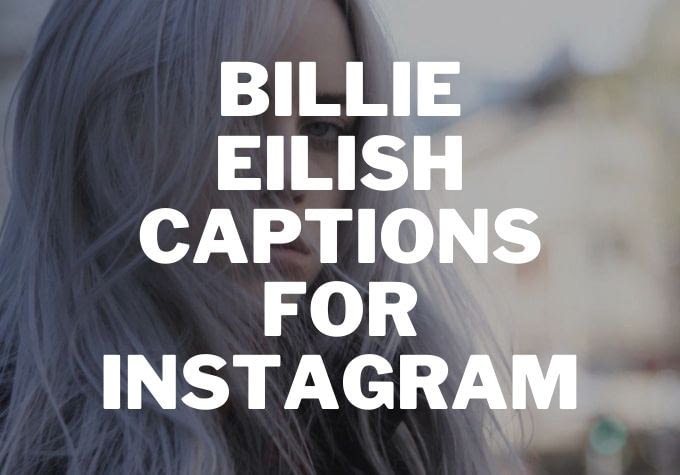 Billie Eilish Captions for Instagram consists of a list of all her relatable lyrics that you can use for your Insta posts and pictures. In case, you're still wondering who Billie Eilish is; she is the 18-year-old singer with the colourful hair and baggy clothes taking the pop music by storm — it's not surprising considering the multiple Grammys she has won.
Teenagers and adults who can relate to her music can use the Billie Eilish captions on their posts. Given below are 50 most popular and relatable Billie Eilish captions for Instagram pictures.
Billie Eilish Captions for Instagram
A diamond mind
When we fall asleep where do we go?
What are you wondering?
Can't stop staring at those oceans eyes
I'm the bad guy
I'm only good at being bad
Where's my mind?
My soul? so cynical
Let me let you go
Call me friend but keep me closer
It isn't lovely?
Heart made of glass, my mind of stone
Tore my shirt to stop you bleeding' but nothing ever stops you leaving
Don't you know too much already?
My heart skips eight beats at once
I don't wanna be you anymore
I'll only hurt you if you let me
I tried to scream, but my head was underwater
Too shy to say, but I hope you stay
Fool me once, fool me twice
I had a dream, I got everything I wanted
Burning cities and napalm skies, fifteen flares inside those ocean eyes
As long as I'm here no one can hurt you
You're italic, I'm BOLD
You got your finger on the trigger, but your trigger finger's mine
I ruined so many things that could've been amazing because I was sad
If I love you was a promise, would you break it if you're honest?
I wanna end me
My lucifer is lonely
It's not okay, I feel so scattered
I wanna be alone, alone with you.
If we were meant to be, we would have been by now
I'm in love with my future, can't wait to meet her
Don't be so sad, it's a waste of time
Can everyone stop being everyone else?
Nothing really scares me, to be honest
You were my life but life is far away from fair
I lost myself again but I remember you
Don't come back, it won't end well
Maybe we should just try to tell ourselves a good lie
When you fantasise, am I your fantasy?
I'll sit and watch your car burn with the fire that you started in me
Bite my glass, set me on fire
You are my strange addiction
Too intoxicated to be scared
I don't need a Xanny to feel better
Tell me love is endless
Taste me, the salty tears on my cheek
All the good girls go to hell
Look at you needing me