50+ Best Beach Captions for Instagram 2020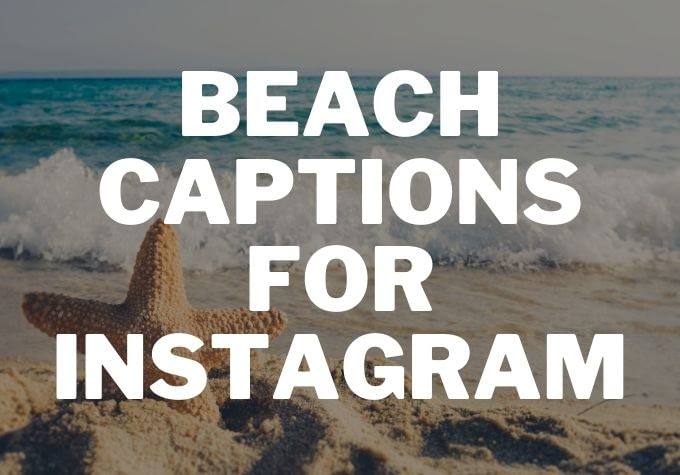 Beach Captions for Instagram are for different posts and pictures taken on the beach either while playing some sport (swimming or surfing), getting a sun-tan or watching the sunset. The real reason behind people liking the beaches is somewhere related to the irresistible and all-around positive vibe that surrounds it. Feeling the warm sun on the skin and hearing the sound of waves with closed eyes are so healing.
Beaches are the best place to clear your head. The sound of beaches has the effect of comfortable and healing. The calmness of the sea gives people a feeling of freedom. Also, the blue colour of the water has an effect of calming the feeling and stabilizing the mind.
A good picture taken on the beach needs a good caption to explain the context and mood of the picture. Here is a list of 50 beach captions that you can use for your Instagram posts.
Beach Captions for Instagram
Don't worry, Beach Happy.
May all your troubles, be bubbles!
Beach therapy done right!
The ocean is full of untamed magic
Blue sky, denim shorts, and a salty tan
See you on the next wave
Heaven is a little closer, when you're on the water
Ocean air, salty hair
That crazy little sun of a beach
Good times and tan lines
Beach, please
Palm trees and ocean breeze
If you're not barefoot, you are overdressed
It comes and goes in waves
Let's get "sea"duced
Sea more of the world, one beach at a time
Dear ocean, I think about you all the time
Meet me where the ocean meets the sky
Stay wild, ocean child
Sorry, the ocean is calling me
Oceanaholic
Let's get carried away
As endless as the ocean, as timeless as the tides
Women like you drown oceans
I don't need a man, I need tequila and a tan
Sea you soon!
Ocean breeze, mind at ease
If there's a will, there's a wave
Young as the morning, old as the sea.
Breezy bubbles
Pool puts the mind at ease
All I need is some Vitamin Sea
Seas the day!
The only vibe I need
That's why blue is my favourite colour
Life's better in a bikini
Deck docks and flip flops
Life's a beach
Happier than a seagull with a french fry
You haddock me at hello
Time to get nautical
Swim, Tan, Sleep, Repeat
Aloha, beaches!
Sea la vie!
Good Vibes and High Tides
I followed my heart and it led me to the beach
Beach days are the best days
Sunshine on my mind
We mermaid for each other
It's a waterful life, go with the float
All is whale