50+ Best Baddie Captions for Instagram 2020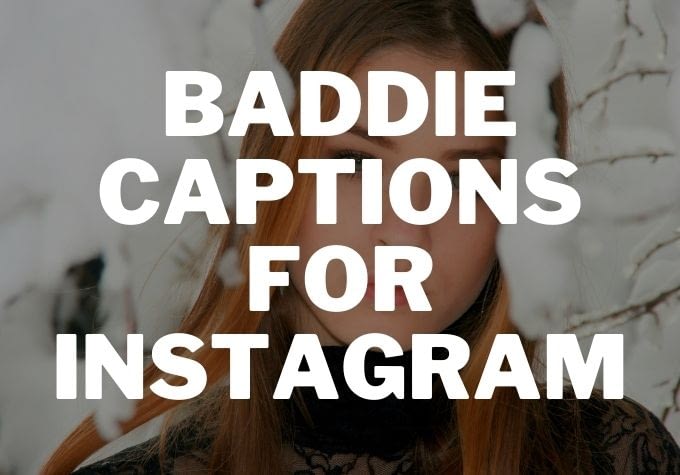 Baddie Captions for Instagram posts can improve your post quality by more than 10 points. It will let your followers know how badass you are and also how you slay your everyday game and look phenomenal even on your off days. Baddie Captions is for someone who has a unique personality and does not care about what others think of them. If you already have a baddie picture, scroll down below and find the perfect caption for your post.
Baddie Captions for Instagram
Turn off the spark that your soul hides behind.
You were my cup of tea, but now I drink tequila.
Magic is in you
Be so good that they can't hurt you.
Be as bold as your lipstick.
Looks like a girl, but she's a flame.
Be your own kind of beautiful.
People say I act like I don't give a shit. I'm not acting.
Stop living for acceptance. Choose yourself.
Lost in a world that doesn't exist
From broken to badass
Love is in the hair.
Bad and Boujee
Playing for keeps
Since forever isn't forever, so let's just vibe till whenever
I think my guardian angel drinks Sangrias at 10 a.m.
Rare to find, hard to handle
Better an "oops" than a "what if"
We were born to be real, not perfect.
Anything but predictable
I chill harder than you party.
Sorry if I looked interested, I'm not.
Hope you think of me, and it fucks you up
Everything I like is either illegal, overpriced or won't text me back.
We own the ropes, who's gonna hang us now?
Fluent in silence
Not a cigarette in my hand, but still you're burning.
Exhale the bullshit
Looking up at my *standards*
Out of the ordinaries
Never settling for less.
Young, but never dumb and broke
Too fab for your negativity.
If I was a pill, you'd overdose.
Beautiful, but destructive
Somewhere between an adorable bundle of joy and a serial killer.
Blink fast to defocus.
Watch me roll, hear me roar.
Pray, slay, conquer the day.
Centre of attention. Always!
Trouble never looked so goddamn fine
You look like I need a drink.
My excuse is that I'm young.
In my DM, they electric slide.
Gloss on worries gone!
What doesn't kill me, might make me kill you.
Not photoshopped, just photogenic
The snack that smiles back
Take a look at what you're missing.
A vibe no one else can replace
Be a bad ass with a good ass