50 Best Attitude Captions for Instagram 2020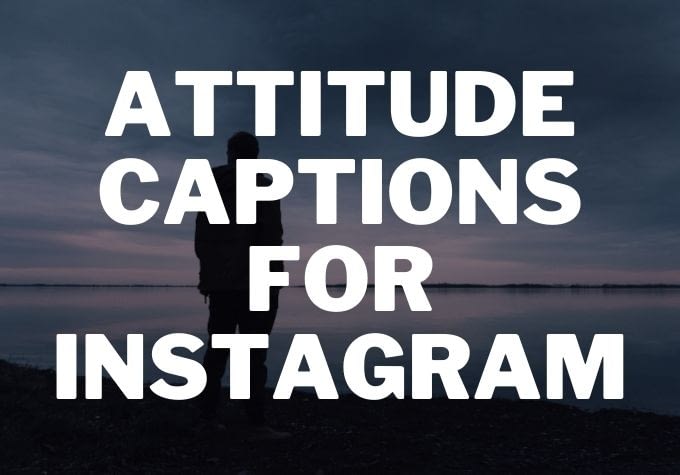 Attitude Captions for Instagram will help your Instagram audience to know about one of the essential factors that have helped you get through all the highs and lows in your life. Since attitude spells how a person copes, adding an attitude caption to your Instagram pictures will let others know about your perspective towards life and rejections.
Given below are the list of 50 attitude captions for Instagram.
Attitude Captions for Instagram
I always behave, but not necessarily well.
I consider myself a diamond dear. You can't break me.
Hanging by a thread of hope, living like its dope
Humble with a hint of Kanye
A sass a day keeps the basics away.
A Batman attitude with a hint of Deadpool humour
Be a little more you, and a lot less them.
I don't rise from the ashes I make them. I am the whole fucking fire
Stay wavy baby!
Drop from the heavens straight into the wild
Eyes on the stake make no mistake.
You've got your demons, and they all look like me.
Wakie-wakie, it's slay time!
Be the boss of your own life.
Completely and absurdly in love with myself
Not spoiled, just well pampered
Judge me when you are perfect
Neither I race, nor do I chase.
Flawed and still worthy
Being classy isn't a choice. It's a lifestyle.
It's better to arrive late than to arrive ugly!
Life goes on, with or without you.
Google me, ain't got no patience for the rumours.
Shoutout to my self coz I'm lit.
Dress like you're always being photographed.
No one's life is perfect, but your Insta feed can be.
What's real, gets attention.
Be a Pineapple: stand tall, wear a crown, and be sweet on the inside and outside.
All you can do is be brave enough to get out there.
Got demons, But I've been a slayer.
Better than the hype!
I only accept apologies in cash.
This ain't a race, but I still want the first place.
Trust no man, fear no bitch
I'm the reason why I smile every day.
Too lit to quit
Sometimes, let the silence speaks
The likelihood of me leaving is very slim.
Surround yourself with pizza, not negativity.
Mentally somewhere else.
Never trade respect for attention.
Do the world a favour, don't hide your magic.
Less bitter more glitter
In this game, I own the rules.
Torn between wanting a snack and looking like one!
Better to be heartless, than heartbroken.
Somewhere between emotional and emotionless.
Drip like Michael Phelps, I think I need a medal.
I'm becoming increasingly hard to know.
Fight for your fairytale.